Application Instructions
The Constant H. Jacquet Research Award Application has four parts described below.  Application materials should be submitted as a single PDF document to the Jacquet Research Award link in the RRA Membership Portal.  The application deadline is April 30.
COVERSHEET CONTAINING THE FOLLOWING INFORMATION
Applicant Name
Position
Address
Email
Project Title
Category of Application: Basic Research or Applied Research
If "Applied," please include:
Name of Client
Responsible Officer
Name
Address
Phone
Email
       2. CURRICULUM VITAE
       3. PROPOSAL
Project Title
Abstract (150 words or less)
Narrative (no more than five double-spaced pages in type no smaller than 12 point; must discuss how the research is applicable for religious organizations, leaders, and/or practitioners)
Bibliography (not counted toward the five-page limit)
          4. BUDGET
Annotated Budget
List other funding sources if applicable, including pending/planned applications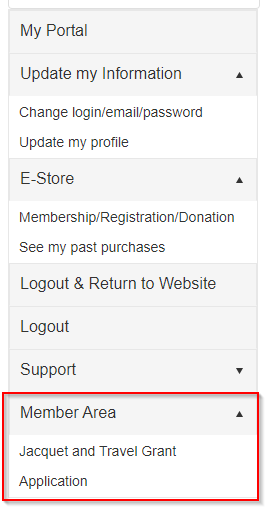 Submitting your Application
After ensuring your membership is current, please upload your application as follows.   Find the link in the RRA members-only area to submit the grant application form.  Look for the "Jacquet and Travel Grant" option in the RRA Membership Portal, as shown in the screen shot at right.   Note that you must have a current membership to apply for a travel grant.
For further questions, please contact Executive Officer Gina Zurlo.